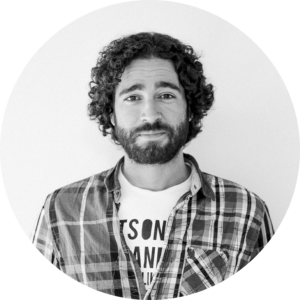 I have worked in the Design Industry for the last 10 years.  From creative agencies, design consultancy to product design. I'm currently designing the best experiences for 7 million customers at Rabobank .
I graduated from the University of (sunny) Almería, Spain with a degree in Computer Science. However, since I was young art and design have always been a major part of my life and therefore I decided to follow my hobbies and move into Design and UX. My engineering mind and creative heart have helped me to understand and create amazing connections with developers and other members of the product team.
I have learned and gained great experiences in all the phases of a product, from discovery to prototyping and delivery to iteration. I love working together with the team, and I like to guide decisions based on user-centered design.
When I'm not at the office, I'm a proud dad, I write or design random stuff, I'm a photographer, collaborate in an olive oil project all whilst being a frustrated guitarist with 9 years of music studies behind me.
Lead Product Designer
Working within the Rabobank Design Chapter towards a better mobile app and mobile/desktop web experience for 7 million customers.
– Concept development and strategy
– User Research
– Team mentoring
– Stakeholder management
– Connector between teams
Product Designer
Principal Product Designer for the BUX's first commission free stock investing app – BUX Zero.
– From zero-to-one product design and app experience
– Creation of Design System and iconography
– Concept development and strategy
– User Research and A/B testing
UX Consultant
UX Consultant for international financial and government institutions such SSF Bank or Bank Degroof and internal UX Mobile stakeholder.
– Providing expert advice on design to financial and government institutions
– Creation of personas, customer journey map and information architecture
– Internal Mobile Stakeholder, defining and guiding Mobile UX best practices within the company
– UI/UX of mobile applications and responsive websites
Nomads Agency 
2013 – 2015
UI/UX Designer
Together with a team of creatives, copywriters and developers I'm proud of being the Lead UX Designer in projects for companies such Rolls-Royce Marine, Pampers and DKMS projects and Senior UX Designer for Emirates, Skins, KillZone, Peugeot and Head & Shoulders.
– Creative and campaigns concept development
– Personas, customer journey mapping and information architecture
– A/B Testing
– UI/UX of websites, social campaigns and apps
UI/UX Designer
My first years I worked for the dutch mobile digital agency M2Mobi for a serie of design projects for various clients such Schiphol Amsterdam Airport, Paris Charles de Gaulle Airport, Heineken, Transavia and Ahold.